Address
Institut für Risiko und Zuverlässigkeit
Leibniz Universität Hannover
Callinstr. 34
30167 Hannover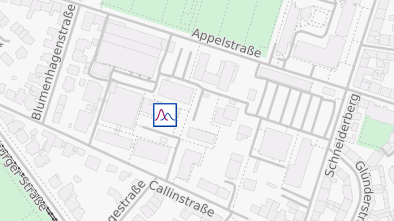 OFFICE
Address
Callinstraße 34
30167 Hannover
WEB EDITOR
Torsten Ilsemann
Administrative/Technical Staff

MAP AND DIRECTIONS
Directions
Public Transport

From Hannover central station, go to "Kröpcke" station is either by foot (approx.. 5 min.) or by tram (lines 1, 2, 3 and 7, one stop). At Kröpcke you will need to change to line 4 (direction Garbsen) or 5 (direction Stöcken). Ride 4 stops and get off at "Schneiderberg / Wilhelm-Busch-Museum".
From the tram stop it is a walk of about 5 minutes to the Institute. Please refer to the path is marked as a blue line on the map for the walking directions.

Car

Please use the parking facilities located over the street "Schneiderberg" as indicated in the map. Then, follow the red path indicated on the map.
Navigation